It was a great honor for us to welcome Mrs. Aimee Viana, the Principal Deputy Assistant Secretary in the Office of Elementary and Secondary Education, and Mr. Michael Chamberlain, Special Assistant for Rural Outreach, to All Saints yesterday.  Joined by a number of distinguished guests that included Dr. Joseph Vorbach (Superintendent of Schools), Mrs. Renee White (Assistant Superintendent for Enrollment and Marketing), Mayor Hal Parrish (City of Manassas) and Mrs. Theresa Coates Ellis (Manassas City Council Member), it was a remarkable moment in the life of our school.
In recent days a number of people have inquired as to when I learned of the visit and how All Saints was actually selected.  I received a call from the Department of Education just last week indicating that a member of their leadership would be in the area and would be pleased to visit All Saints.  After learning of All Saints, they decided to reach out to us to inquire whether a visit might be possible so that they might learn first-hand what makes All Saints unique.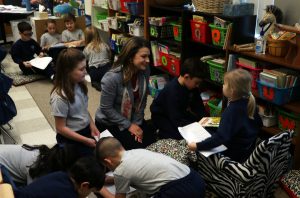 In this regard, the visit provided us an opportunity to showcase specific aspects of our school that were of particular interest to the U.S. Department of Education, namely differentiation of instruction, integration of technology, and the benefits of the tax credit program for families in our community.
There were many highlights throughout the event, such as the visits to classrooms and the one-on-one interaction that our students enjoyed with our special guests. Perhaps the most poignant was the listening session during which a small group of students, parents and faculty shared their perspective on the "All Saints experience." Prompted with a single question as to why they had chosen All Saints and what makes our school so distinct, each individual spoke from the heart, sharing the impact that All Saints has had on their family through the years.  It was a moment of tremendous school pride and recognition of the gift of Catholic education.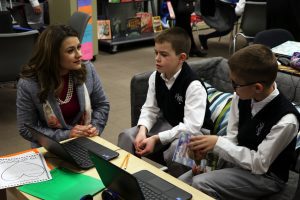 I offer my sincere thanks and appreciation to all of our participants.  I wish to specifically thank and congratulate Camden (President of the SCA) and Brenda (Vice President of the SCA) who represented the entire student body and beautifully articulated the difference that All Saints has made in their lives.
Start to finish, the visit was a wonderful experience for our school community – and a great affirmation of all that we have achieved together through the years.  Indeed, with God all things are possible!