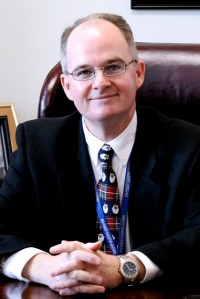 Anchored in the cherished traditions of our faith, All Saints Catholic School offers a nurturing environment in which students excel academically and grow in wisdom and grace each day.
All Saints faculty and staff are committed to providing our students with an educational foundation to go forward in faith and knowledge into the world. Our curriculum is designed to offer every student a balanced program fostering spiritual growth, intellectual excellence, social responsibility, and physical and emotional development.
All Saints cultivates a learning environment that encourages students to become active learners, finding opportunities to apply both knowledge and skills to problem-solving. With sensitivity to the needs of the individual, All Saints encourages each child to attain his or her highest potential.
A Foundation in Faith
Empowered by the Spirit, it is our mission to cultivate a Christ-centered community where students develop a relationship with God that will serve as a foundation of faith throughout their lives. Our students live their Catholic faith through prayer and service to others. From student-led prayer to begin and end each day, the Angelus at noon, daily religion class, and weekly school mass, our Catholic faith is woven into everything we do at All Saints. The practice of our faith also includes many beloved traditions related to the liturgical year, including our Alleluia Prayer Service, Seventh Grade Passion Play, and May Crowning.
65+ Year Tradition of Academic Excellence
All Saints fourth grade students selected to represent private schools across the nation by participating in the January 2022 National Assessment of Educational Progress (NAEP), the largest national assessment of public and private school students.
Selected by the United States Department of Education for a 2020 site visit
Recognized as a Top School in the state of Virginia by Johns Hopkins Center for Talented Youth (CTY) Talent Search
2009 Blue Ribbon School of Excellence – U.S. Department of Education
School-wide STEM focus (science, technology, engineering and math)
State-of-the-art ActivPanels featured in every classroom to promote interactive learning
One-to-one Chromebooks for our middle school students
Chromebook and iPad carts for in-classroom instruction
Middle School Video Production Specialty Program
VEX Programming –all 7th and 8th grade students
Google Classroom – Middle School
Advanced Mathematics (including Algebra)
Advanced Spanish (grades 7-8)
Robotics Club
Accelerated Reading Program
Spanish for students in grades 1 – 8
Middle school science lab
Extended Day Program offering before and after school care
Variety of after-school activities, including Robotics Club, Creation Care Club, Band, Schola, CYO Sports, National Junior Honor Society, Newspaper Club, Student Council, and Yearbook.
Outstanding and committed faculty and staff – 2014 NCEA Distinguished Teacher Award recipient Mrs. Vickie Coyle.
Commitment to Community Outreach
All Saints encourages students to care for their neighbors both near and far through on-going community service initiatives. Highlights include:
Bread of Life Food Drive (national program partnering with University of Notre Dame alumni organization)
Raising $5,000 through student-led service clubs to build a house in the Dominican Republic
National Junior Honor Society sponsored food drives
Serving at the All Saints monthly senior citizen luncheons
Designing baby blankets for the Tepeyac Center
Collecting school supplies for students in Washington, D.C. schools
Creating Rosary beads
Stocking shelves at the Bethany Food Pantry
Collecting mittens to benefit SERVE
Fundraising drives to support Paul VI Options Program
Red Ribbon Week to benefit Youth for Tomorrow
Greeting card campaigns for our troops
Preparing meals at SERVE/breakfast for the cold weather shelter
Vibrant Student Life
The action doesn't stop at dismissal; All Saints offers a variety of engaging after school activities.
Award-winning Band Program
Robotics Club
Battle of the Books
Chess Club
Choir/Schola
Creation Care Club
CYO Basketball and Cheerleading
CYO Cross Country, Track and Field
CYO Volleyball
National Junior Honor Society
Student Council Association
Peace & Justice Players
Safety Patrols
Scouting
Yearbook Club
Youth Group
Find Out More
To find out more about our vibrant, faith-focused learning environment or to schedule a tour, please contact Mrs. Mary Rodriguez at 571-516-3170 admissions@allsaintsva.org.
Come visit All Saints during one of our upcoming Open House events or join us on a tour!
Facts & Highlights | Register for an Open House  |  Tuition Assistance  |  Apply Online