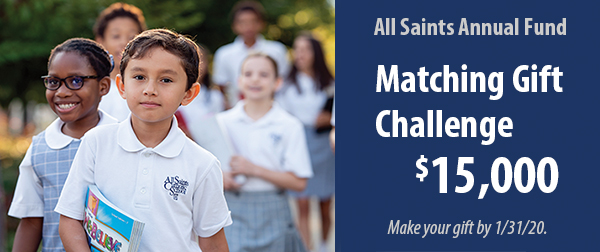 Special Matching Gift Challenge until 1/31/20
It is with great excitement that we share this outstanding news! An anonymous donor has pledged to match contributions made to the All Saints Catholic School Annual Fund up to $15,000 now through January 31, 2020.
This special Matching Gift Challenge means that every contribution made to our Annual Fund will now be matched dollar-for-dollar, making your gift go twice as far. The challenge is scheduled to run from now until January 31—or until $15,000 in matching donations have been reached.
Donations of any amount made by the deadline will be matched dollar-for-dollar up to the aggregate amount of $15,000. A $25 gift becomes $50, $50 becomes $100, $100 becomes $200, $500 becomes $1,000, and so on.
Double the Impact of your Gift
To participate in the Matching Gift Challenge, please print our Annual Fund brochure and send in your participation form through your child's teacher or simply make a donation online by clicking the Donate Now button below.
---
Take a tour of our school and you'll immediately see the impact of the Annual Fund. From the introduction of our Robotics Club and VEX Programming to Wi-Fi enabled classrooms and ActivPanels—your support has made a difference in empowering the next generation of learners.
To ensure that current All Saints students are equipped with skills required for the careers of the future, our 2019-2020 Annual Fund will continue its STEM focus (science, technology, engineering and math).
Our goal is to raise $15,000 through our 2019-2020 Annual Fund Campaign. Proceeds from this year's Annual Fund will support the:
Creation of studio space in the library to produce a student-run morning newscast and special video projects
Purchase of two additional ActivPanels
All Saints Catholic School has been making a difference in the lives of students for 60 years by inspiring spiritual growth, intellectual challenge, community service, and compassion for others. We ask you to reflect on the difference that Catholic education has made in your life and support our school through:
Gifts of Prayer  |  Gifts of Involvement  | Gifts of Financial Participation
---
Your gift to All Saints will make a direct and immediate impact!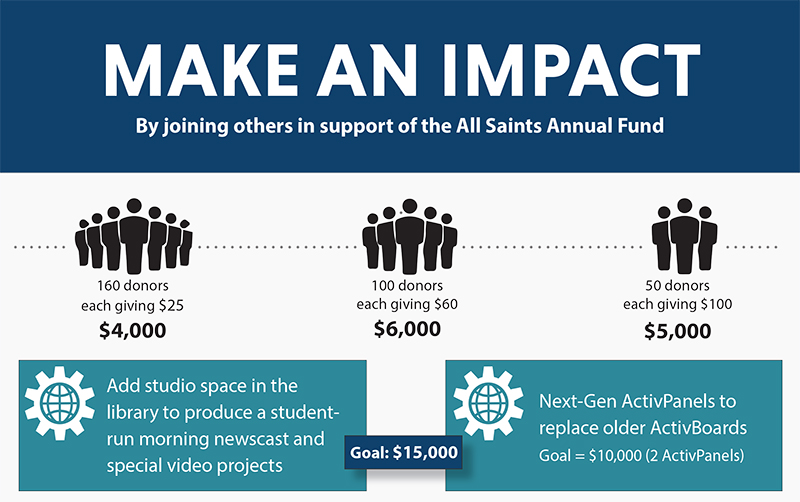 ---
How can you participate?
A gift to the Annual Fund symbolizes your belief in our mission. Participation is critical. High levels of participation will demonstrate our community's shared commitment to our students.
To share your gifts of prayer, involvement, and financial participation, please print our 2019-20 Annual Fund Brochure or Make an Online Donation.
Recognition Levels*

Friend of All Saints:
$60-$99
Scholars Circle:
$100-$249
Saints Circle:
$250-$499
Angel Circle:
$500-$999
Archangel Circle:
$1,000–2,499
Leadership Circle:
$2,500-$9,999
Founders Circle:
$10,000 & Up
---
For your convenience, you can support our Annual Fund by making a financial gift online.

If you would also like to add a gift of prayer or involvement, you will have an opportunity to do so within the online form.

Support All Saints by Check

If you prefer to donate by check, please print the form in our Annual Fund Brochure and return it to your child's teacher or mail it to: All Saints Catholic School, 9294 Stonewall Road, Manassas, VA 20110. Please make checks payable to All Saints Catholic School.
---
United Way
If your employer participates in the United Way, you can direct a set amount of your United Way gift to All Saints Catholic School. It's as easy as designating All Saints as a recipient on your United Way contribution form.
Here's how to complete the United Way National Capital Area form:
Under the section entitled, "Choose How You Would Like Your Investment Directed," check "Option D: Designate a Specific Nonprofit Organization."
Select "Other nonprofit organization or other United Way must be a 501(c)3" and provide the following information: Nonprofit Name: All Saints Catholic School
EIN#: 52-1601987
Amount (per year): $ ________
Address: 9294 Stonewall Road, Manassas, VA 20110
Please note that a minimum gift of $100 per nonprofit is required when making a contribution to a non-member nonprofit. If you have any questions, please contact Janis DeVore, Director of Marketing & Development, at development@allsaintsva.org.
If you have any questions about the All Saints Annual Fund,
please contact us at (703) 368-4400. Thank you for supporting our mission!
---
*Although recognition levels relate to financial giving, each gift of prayer, involvement and financial participation is cherished by our community and recognized in our campaign.