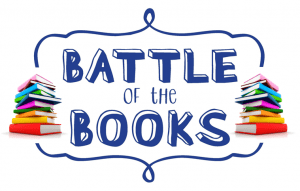 Battle of the Books is school club open to 5th and 6th grade students in Catholic schools throughout the Diocese of Arlington.  The All Saints club meets in the library routinely throughout the year to talk in depth about a specific book list.  An assigned book is discussed in detail each meeting and two books are reviewed monthly. There are 15 books on this year's list representing different genres of literature.  In May, the diocesan Battle of the Books competition takes place, where each school is represented by a team of five students.
The Battle of the Books program is challenging and fun for students who enjoy reading books and competition. Please contact Mrs. Coyle for additional information about the Battle of the Books.
Latest News
Battle of the Books – 2019/2020 Reading List
Categories include nonfiction, historical fiction, fantasy, classic, mystery, adventure, realistic fiction and Catholic Librarian Association (CLA) choice. The following is the order that books should be read and dates will be determined a the beginning of the school year.  Students will try and meet twice a month on Wednesdays after school in the library.

Front Desk by Kelly Yang    9/18/2019
New Kid   by Jerry Kraft     9/25/2019
The Book of Boy  by Catherine Gilbert Murdock    10/9/ 2019
Harlem Charade  by Natsha Tarpley  10/23/2019
Restart   by Gordon Korman   11/6/2019
Lemons  by Melissa Savage  11/13/2019
Grand Canyon  by  Jason Chin 12/4/2019
Sign of the Beaver   by Elizabeth George Speare  12/4/2019
Nevermore: The Trials of Morrigan Crow   by Jessica Townsend 1/15/2020
Finding Langston   by Lesa Cline-Ransome  1/29/202
You Want to Vote, Lizzie Stanton?   by Jean Fritz  2/12/2020
Anne of Green Gables (Graphic Novel)   by Mariah Marsden 2/26/2020
Framed!  by James Ponti 3/11/2020
BOB  by Wendy Mass & Rebecca Stead 3/25/2020
Unbeatable Squirrel Girl: Squirrel Meets World by Shannon Hale 4/8/2020
Note: Please be aware due to pace of the meetings and inclement weather the book discussions may vary but we will try to adhere to this schedule in reading order.