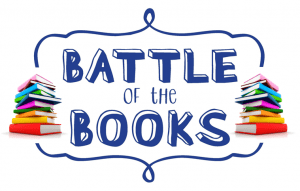 Battle of the Books is an after school club open to 5th and 6th grade students in Catholic schools throughout the Diocese of Arlington.  The All Saints club meets every other Monday after school in the library. An assigned book is discussed in detail each meeting and two books are reviewed monthly. There are 15 books on this year's list representing different genres of literature.  In May, the diocesan Battle of the Books competition takes place, where each school is represented by a team of five students.
The Battle of the Books program is challenging and fun for students who enjoy reading books and competition. Please contact Mrs. Coyle for additional information about the Battle of the Books.
Latest News
Battle of the Books – 2018/2019 Reading List
Categories include nonfiction, historical fiction, fantasy, classic, mystery, adventure, realistic fiction and Catholic Librarian Association (CLA) choice.

Finding Gobi: Young Reader's Edition by Leonard Sept 17th
Insignificant Events in the Life of a Cactus by Bowling Oct 1st
Beyond the Bright Sea by Wolk Oct 15th
Wishtree by Applegate Oct 29th
Click Here to Start by Markell Nov 5th
The Illiad by Cross Nov 26th
Crispin: The Cross of Lead by Avi Dec 17th
Bicycle Spy by McDonough Jan 14th
The Plot to Kill Hitler Young Reader's Edition by McCormick Jan 28th
Twenty One Balloons by duBois To Be Determined
Sputnik's Guide to Life on Earth by Cottrell To Be Determined
When the Sea Turned to Silver by Lin To Be Determined
Hello Universe by Kelly To Be Determined
Refugee by Gratz To Be Determined
Three Times Lucky by Turnage To Be Determined
Note: Please be aware due to pace of the meetings and inclement weather the book discussions may vary but we will try to adhere to this schedule in reading order.