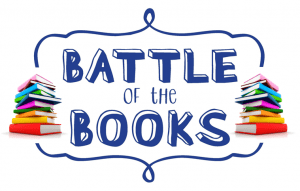 Dear Rising 5th & 6th Grade Students and Parents,
The Battle of the Books is a voluntary reading program that is open to 5th and 6th-grade students in schools throughout the Diocese of Arlington.  An assigned book is discussed in detail each meeting and usually, we try to review two books a month. There are 16 books on this year's list representing different genres of literature.
This reading list is given out now to interested students so that they can read a few of the books over the summer.  The first book to be discussed when the program resumes in September is "Nine, Ten: A September 11 Story" by: Nora Raleigh Baskin
Although the Battle of the Books program is challenging, it is also fun for students who enjoy reading books and competition.  We hope to see you in September!  Have a great summer and take time to read a couple of books.
Battle of the Books – 2020-2021 Reading List
Categories include nonfiction, historical fiction, fantasy, classic, mystery, adventure, realistic fiction and Catholic Librarian Association (CLA) choice. The following is the order that books should be read and dates will be determined a the beginning of the school year.  Students will try and meet twice a month on Wednesdays after school in the library.

Nine, Ten: A September 11 Story by Nora Raleigh Baskin    9/16/2020
Samantha Spinner and the Super-Secret Plans #1   by Russell Ginns     10/7/2020
Marching For Freedom: Walk Together, Children, and Don't You Grow Weary by Elizabeth Partridge 10/21/2020
Song of  the Whale  by Lynne Kelly   11/4/2020
LifeBoat 12   by Susan Hood 12/2/2020
Pay Attention Carter Jones by Gary D. Schmidt   12/16/2020
We're Not From Here  by Geoff Rodkey 1/13/2021
The Fabled Life of Aesop   by Ian Lender   1/27/2021
The Bridge Home  by Padma Venkatraman
Queen of the Sea by Dylan Meconis
Small Steps: The Year I Got Polio by Peg Kehret
Wollstonecraft Detective Agency: The Case of the Missing Stone Book #1  by Jordan Stratford 
Door in the Wall by Marguerite de Angeli
Page & Company: The Book Wanderers by Anna James  
Beetle Boy by M J Leonard 
Five Children and It by Edith Nesbit – reviewed at the end of last year (May 2020)
Note: Please be aware due to pace of the meetings and inclement weather the book discussions may vary but we will try to adhere to this schedule in reading order.