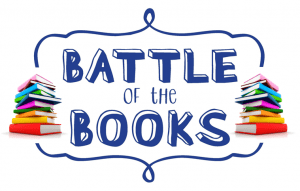 Battle of the Books is an after school club open to 5th and 6th grade students in Catholic schools throughout the Diocese of Arlington.  The All Saints club meets every other Monday after school in the library. An assigned book is discussed in detail each meeting and two books are reviewed monthly. There are 15 books on this year's list representing different genres of literature.  In May, the diocesan Battle of the Books competition takes place, where each school is represented by a team of five students.
The Battle of the Books program is challenging and fun for students who enjoy reading books and competition. Please contact Mrs. Coyle for additional information about the Battle of the Books.
Congratulations to our 2016-2017 team for winning first place in the 2017 Arlington Diocesan Battle of the Books!
Latest News
The next Battle of the Books meeting will be in the library on Oct. 16 from  3:15 to 4:15. Be prepared to discuss Blackthorn Key by Kevin Sands. It is a thrilling mystery set in London 1665 with codes to crack, secrets to uncover and conspiracies to foil.  Also remember to complete your extension sheets, bring in participation form signed by parent and a snack for yourself. Enjoy the holiday and catch up on your reading.
Battle of the Books – 2017/18 Reading List
Categories include nonfiction, historical fiction, fantasy, classic, mystery, adventure, realistic fiction and Catholic Libriarian Association (CLA) choice.Mystery
The London Eye Mystery by Dowd
The Blackthorn Key by SandsRealistic Fiction
Save Me A Seat by Varadarajan and Weeks
Ghost by ReynoldsNonfiction
Some Writer! by Sweet
Hidden Figures (Young Readers' Edition) by ShetterlyFantasy
The Girl Who Drank the Moon by Barnhill
Ghosts by TelgemeierHistorical Fiction
A Night Divided by Nielsen
Sweet Home Alaska by Dagg

Adventure
The Wild Robot by Brown
The Doldrums by Gannon

Classic
The Trumpet of the Swan by White
My Side of the Mountain by George

CLA Choice
The Staircase by Rinaldi