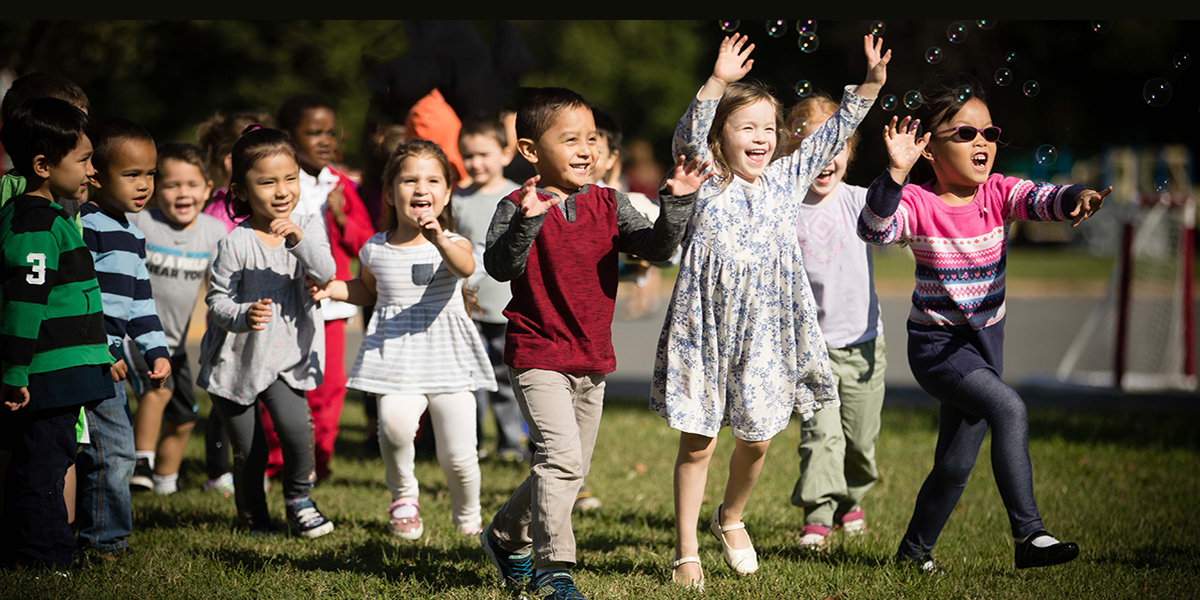 All Saints Pre-Kindergarten Program
Looking for a preschool or pre-kindergarten program for your four-year-old child?
All Saints Catholic School's Pre-Kindergarten Program offers a nurturing, faith-based environment designed to help your child grow academically, spiritually, socially, creatively, and emotionally.
Our academic focus will prepare your child for tangible success in kindergarten and elementary school, while learning to appreciate and act on the values of kindness, love and joy through our Virtues Program, positive daily interactions, and faith-focused activities.
Program Structure:
Full Day Program (5 Days per Week) from 8:00 AM – 2:50 PM
Children must be four years of age by September 30.
Tuition Rate – $6,788 (All Saints, Holy Trinity, Sacred Heart in-parish rate)
All Saints offers Extended Day before school care from 6:30 – 8:00 AM and after-school care from 3:00 – 6:30 PM.
---
We would love to share the story of our school with you!
To schedule a tour or learn more:
703-393-1490 / admissions@allsaintsva.org
---
We believe in educating the whole child.
Our Pre-K students have fun while participating in activities that help them develop in the following ways:
Spiritually
Religious studies are woven throughout our school day. Children discover God as their Father and Jesus as their friend, and show their love through prayer, songs and finger plays. The Seeds – Gospel Weeklies religion series introduces our Pre-K students to various Saints, Bible stories, prayers, virtues and liturgical seasons of our faith.
Social Development
Children have ongoing opportunities to develop their social skills. Teachers model appropriate problem-solving strategies and encourage the use of words to express thoughts and feelings. Group activities stress the importance of sharing, cooperating and helping, following directions, and negotiating.
Intellectual Development
Our hands-on approach to learning places emphasis on developing language skills through listening, reading stories and poems, rhyming, dictating stories, phonetic games, dramatic plays, drawing, journaling, and inventive spelling. We incorporate hands-on technology into learning through the use of ActivPanels and iPads. Through activities using shapes, colors, sizes, sorting, measurement, counting, and numbers, children develop cognitive and math readiness skills. They observe, interact, explore and problem-solve.
Creative Expression
Children express themselves through dramatic play, music and the use of art media. Inclusion of open-ended projects allows for creativity and originality.
Emotional Development
Children are loved and encouraged with words of praise and positive motivation. We develop a mutually respectful relationship with each child, while creating an environment where children are happy and eager to learn.
Physical Development
Children have daily opportunities to develop their motor skills. Activities focused on cutting, drawing, painting, manipulatives, puzzles, modeling class, etc., develop fine motor skills, while daily outdoor play (including running, jumping dancing, balancing, throwing and skipping) builds large motor skills.
---
---
A Day in the Life of a Pre-K Student
So what does a typical day look like for an All Saints Pre-Kindergarten student?
Meet and greet each child, morning work, prayer and circle time
Religion
Phonics and handwriting
Math and numbers
Snack and playground/recess
Music and library specials twice a week
Centers and iPad time – children use this time for play and exploration in reading, writing, home living, and block centers, and participation in special projects and theme-related activities.
Lunch
Nap time
Listening time – children gather as a group to enjoy books, fingerplays, songs, and games
Closing story and prayer prior to dismissal
Special activities throughout the year include:
Advent Prayer Services
Annual Pre-K Christmas Pageant
"Friends Around the World" Celebration
"Alpha Bucket" Letter of the Week
Storybook Parade
Transportation Week
Community Helpers
Virtue of the Month
8th grade Buddy Program
---
Accreditation
All Saints Catholic School is licensed through the Virginia Department of Education. Additionally, All Saints' Pre-Kindergarten Program is licensed through the Virginia Department of Social Services and complies with all state and diocesan policies regarding early childhood education.
---
Tuition Assistance
Families interested in applying for Tuition Assistance for All Saints' Pre-Kindergarten Program are also invited to complete the FACTS Grant and Aid Assessment Process.  Although Pre-Kindergarten students are not eligible for financial assistance through the Arlington Diocese, the analysis provided by FACTS will guide the process for determining disbursements from funding through our school and parish.
---
Testimonials
This was such a great year for our sons. We are so proud of them both! We have seen them develop rapidly in their skills, talents, and knowledge learned at your school. To our amazement, they seem to be accelerated in their subjects and learning process to such a high degree, especially when compared to our own pace and development in the beginnings of our education. This is a true testament to your organization and quality of work that your staff and teachers deliver on a consistent basis.
It is with great confidence that we know our children are in good, caring hands at your institution. For all of this, we are very thankful and grateful to be part of the All Saints community and to have the opportunity for our children to attend school in such a high-quality environment.
Michael & Tatiana H. ~ All Saints Parents
I had the good fortune of witnessing your All Saints' Pre-Kindergarten Christmas Pageant. It was brilliantly conceived and masterfully executed. Our grandchild has essentially won the lottery, by being able to attend All Saints Catholic School and having you as a teacher.
Jerry T. ~ Pre-Kindergarten Grandparent
---
Are you ready to secure your child's spot in
All Saints' Pre-K class of 2023-2024?
Apply today for our Pre-Kindergarten Program
Complete our online application or find out more about our vibrant, faith-focused learning community. We can't wait to welcome your child and family to our All Saints Catholic School community!
To schedule a tour or learn more:
703-393-1490 / admissions@allsaintsva.org
Apply Online
---
Note: In accordance with the law established by the Commonwealth of Virginia, proof of identity and age is required at the time of registration. The Prince William County Health Department requires that health forms with current immunizations be submitted at the beginning of each school year.
All Saints Catholic School welcomes all applicants regardless of race, sex, color, creed or ethnic origin.