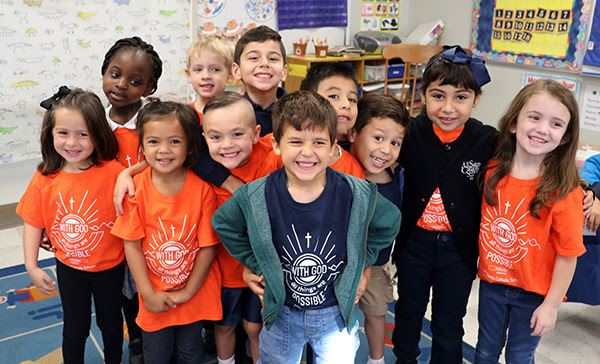 We would love to share the story of our school with you!
Click the button below to schedule a tour of our school.
Openings remain in fifth grade, sixth grade, and select grade levels for the 2023-2024 school year.
If you are interesting in the 2024-2025 school year, please click the button below to register for an upcoming Open House!

For additional information, please contact Mrs. Mary Rodriguez  at 571-516-3170 or admissions@ allsaintsva.org.
Explore the videos and resources below to learn more about All Saints Catholic School.
---
Knowledge, Character, Compassion – A Tradition of Faith


Pre-Kindergarten — 8th grade
Anchored in the cherished traditions of our faith, All Saints Catholic School provides a nurturing learning environment in which students excel academically and grow in wisdom and grace each day.

Founded in 1957, All Saints Catholic School is steeped in tradition, yet continually adapting to meet the needs of our school families —including our robust K-8 STEM Program.

---

Living Our Faith

All things at All Saints begin and end with prayer. Through daily religion class, morning and afternoon prayer, the Angelus at noon, and our weekly school Mass, our students develop a strong faith foundation. Second graders prepare for the Sacraments of Reconciliation and Holy Communion, and 8th grade students finalize two years of study in preparation for the Sacrament of Confirmation. Faith traditions mark the Liturgical year from All Saints Day festivities, Advent Prayer Services, and Christmas Pageants to the Alleluia Prayer Service, and the Seventh Grade Passion Play.

---

In Service to Others


Opportunities for community service abound as our students support organizations, including the Bethany Food Pantry, monthly parish Senior Luncheons, Bread of Life Food Drive, SERVE, House of Mercy, and Mother of Mercy Free Medical Clinic. In 2016, students worked together to raise funds to build a house in the Dominion Republic through the Arlington Diocese Bánica Mission. Middle school students have additional opportunities for community service through our Middle School House Program.  Students are placed in one of ten Houses, each named after a saint. House members plan and work together on community service initiatives throughout the year.

---

Innovation in Learning & Differentiated Instruction

All Saints was recently selected by the United States Department of Education for a February 2020 site visit, in recognition of our school's use of innovation and differentiated instruction (tailoring teaching to meet each student's individual needs). All Saints students are encouraged to become active learners, finding opportunities to apply both knowledge and skills to problem-solving.

---

K-8 STEM (Science, Technology, Engineering & Math)

All Saints' strong academic focus includes school-wide STEM initiatives starting in Kindergarten and continuing through middle school.

K-5 STEM – hands-on science, computer class, iPads and Chromebooks on carts to integrate easily into learning
Google Classroom – organizational tool to streamline workflow for students grades 5-8
One-to-one Chromebooks – middle school students have school-issued Chromebooks
VEX Programming – robotics programming, grades 7-8
Robotics Club – Grades 6-8
Middle School Video Production Specialty Program – students in 7th grade take a weekly Video Production class and then apply their skills in 8th grade as the producers of our Morning Newscast.
ActivPanels

– state-of-the-art ActivPanels with touchscreen installed in every classroom
---
To request information about becoming part of our school community, please contact Mrs. Mary Rodriguez at 571-516-3170 or admissions@allsaintsva.org.