Welcome to Library with Mrs. Coyle
The All Saints Catholic Library is an interactive learning environment geared to ignite hands-on activities, technology literacies and encourage students to develop a lifelong interest in reading. The library has evolved into a "dynamic" space always ready to move and change to support multiple strategies for academic success. 


BOB WILL MEET JAN 29th AFTER SCHOOL IN THE LIBRARY FROM 3:00 TO 4:15!
The Battle of the Books group will discuss "Finding Langston"  by Lesa Cline-Ransome. A Coretta Scott King Honor Book and
Winner of the Scott O'Dell Award for Historical Fiction….
This is an outstanding novel to review since the 2020 Youth Media Awards will be announced this month. It is 1946 and eleven-year-old Langston's mother has passed away.  His father decides to move them from their home in Alabama to Chicago's Bronzeville district.  Langston is forced to adjust to a new city, a new way of life, and a new school.  Langston escapes from being bullied by visiting the local library and finds solace in the words of  poet, Langston Hughes.
---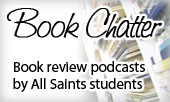 Book Chatter is a podcast produced by the All Saints Library/Media Center featuring student reviews of books in our library.
Visit our latest Book Chatter feature now!
---
All Saints Destiny Quest /Follett App

Even when school is out, students can continue to search for resources . The All Saints school community can remotely access the school library collection 24/7.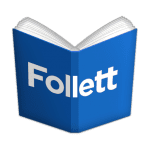 Destiny Discover offers All Saints students a collection of  Ebook titles.  Students can access these Ebooks on any internet-enabled device (phone, iPad, PC).  Access allows students to "browse" the books online for up to 15 minutes (without checking out), or you can check out your book just as you would any print format book.  The Ebook will automatically be returned in 14 days.  Checking the book out ensures that you can access the book online at anytime, or you can download it for reading later in Follett's offline reader.
All Saints Destiny Library Online Catalog
Students 5th through 8th grade have Ebook accounts. Also, check out this video for DESTINY QUEST!
---

Checkout Procedures
Check Out the new books added to the collection. Students are very excited about getting their books, but in order for them to check out another book they must remember to bring back their library books by the due date. All grades can check out additional books for assignments!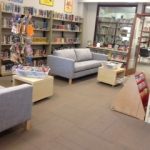 K-2nd 1 Book –Due back in 1 Week
3rd – 8th 2 Books – Due back in 2 Weeks
---
Accelerated Reader Program
Congratulations All Saints students you read almost 6,500 books during the 2018-2019 school year….let's exceed that goal this year! The Accelerated Reader Program is a computerized reading enrichment program. Students have the option to read a book and then take a computer quiz that is given in a multiple-choice format to assist in developing comprehension skills.
For further details, please see our Accelerated Reader Program information page.
"With God All Things Are Possible."