February 2023 – All Saints ranked #1 among schools in Virginia for participation in First in Math! We congratulate Connor P. (6thGrade) who is ranked #1 and Xavier D. (1stGrade) who is ranked #5 among individual students in the state.  We also congratulate the other 31 students in our school who are now included in the top 100 students in Virginia for completion of math problems through First in Math.

January 2022 – All Saints fourth grade students selected to represent private schools across the nation by participating in the National Assessment of Educational Progress (NAEP).  Administered by the National Center for Education Statistics, within the U.S. Department of Education, NAEP is the largest national assessment of public and private school students.
August 2021 – All Saints introduced a new Middle School Video Production Specialty Program for 7th and 8th grade students.
February 2020 – Thanks to the success of the 2019-2020 Annual Fund and a generous anonymous donor, All Saints upgraded the entire school with next-generation ActivPanels.
February 2020 – All Saints selected by the United States Department of Education for a site visit.
April 2019 – The Little Medical School and Little Veterinarian School programs at All Saints are featured in Bull Run Mountain Neighbors magazine.
April 2019 – Mrs. Stefanie Horgan, Assistant Principal, is a featured speaker at the 2019 Conference of the National Catholic Education Association (NCEA).
April 2019 – Mrs. Suzanne Blair receives 2019 Catholic Teacher Award. The Catholic Business Network of Prince William County honored Mrs. Blair, All Saints Art Teacher, with one of two 2019 Catholic Teacher Awards.
March 2019 – All Saints Robotics Team places in 2nd in the DMV Catholic Schools Cup Robotics Championship.
April 2018 – All Saints Catholic School places 3rd overall in the Diocesan Science Fair.
February 2018 – All Saints receives FBI SOS Award Representatives from the FBI Washington Field Office present All Saints with a Cyber Safety Award for winning the Stingray category of the FBI Safe Online Surfing Program (SOS) for the month of February. Our students achieved the highest score in the nation for the Stingray category during February 2018.
August 2017 – 1:1 Device Initiative launched in middle school.
September 2016 – Purchase of three mobile labs of Chromebooks plus additional iPads for the primary grades.
May 2016 – Students successfully raised money throughout the year to Build a Home in Bánica in the Dominican Republic.
March 2016 – Mrs. Libby Slovenkay receives 2016 Catholic Teacher Award. The Catholic Business Network of Prince William County honored Mrs. Slovenkay, All Saints middle school social studies teacher, with one of two 2016 Catholic Teacher Awards.

April 2014 – Mrs. Vickie Coyle Receives NCEA Distinguished Teacher Award.  On April 22, 2014, All Saints Librarian Mrs. Vickie Coyle was awarded a 2014 Distinguished Teacher Award by the National Catholic Educational Association (NCEA) at its national convention in Pittsburgh, PA.
November 2013 – All Saints Establishes Robotics Partnership with Leidos.  As part of our emerging STEM initiative, all 7th and 8th grade students will participate in virtual robotics in the computer lab through a web-based program designed at Carnegie Mellon and purchased with proceeds from the 2012-2013 Annual Fund. As students develop basic skills related to design and programming, those interested will have an opportunity to participate in a Robotics Club. With the funding provided by Leidos, we look forward to introducing this exciting after-school, hands-on activity during the second semester.
January/February 2011 – All Saints Selected School of the Month.  All Saints Catholic School is pleased to announce that it was selected by Today's Catholic Teacher as its January/February 2011 School of the Month, in recognition of the distinct manner in which the Peace & Justice Players program blends faith and service to the benefit of the community.
April 2010 – Rated "Top School" by Johns Hopkins CTY.  Johns Hopkins University Center for Talented Youth (CTY) Talent Search recognizes All Saints as a "Top School" in the state of Virginia. All Saints is one of only 100 schools in the state to receive this distinction.
September 2009 – 2009 Blue Ribbon School of Excellence.  The U.S. Department of Education selects All Saints Catholic School as a 2009 Blue Ribbon School.
---
Testing Results
Each year students in grades 3-7 participate in standardized testing through Scantron Performance Series.   The following is a grade level summary of scores in the three areas of reading, math, and language arts from the first round assessment that occurred during the fall.  Each of these scores represents the grade level national percentile ranking which indicates how the students as a whole performed when compared to the national norm group at the same level.  For example, an NPR of 71 would mean that the student group scored above 71% of their grade-level peers in the national norm group.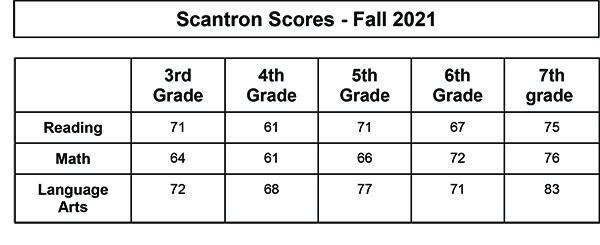 All of our grade level scores are well above the national average which is represented by 50 percentile, a success story for our students and teachers.  Given the challenges that we have navigated over the course of the past year related to the pandemic, we can be very proud of the strong start to the academic year that is indicated by these scores.
---
All Saints Legacy of Faith:
Religious Vocations
Sr. Stephanie Gabriel Tracy, IHM
Rev. Matthew Carroll, O.P.
Rev. Michael F. Kuhn, Y.A.
Sr. Roberta Hummel, Daughters of St. Paul
All Saints Legacy of Scholarship: Scholar Recognition
Osbourn High School Valedictorian (2021) – Amelia Slater
Brentsville District High School Valedictorian (2020) – Noah Egan
St. John Paul the Great High School Salutatorian (2020) – Zachary Mills
Osbourn Park High School Valedictorian (2018) – Brightney Varghese
Paul VI High School Valedictorian (2006) – Marianne Zorio
Brentsville High School Salutatorian (2006)
Paul VI High School Valedictorian (2002) – Rev. Matthew Carroll, O.P.
Paul VI Salutatorian (2002) – Christopher Russell
The Benefits of a Catholic Education
Our curriculum at All Saints focuses on the attainment of knowledge and skills necessary for the student's spiritual, moral, intellectual, social and physical development.