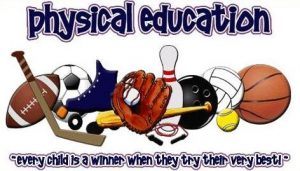 Welcome to P.E. &  Health with Mr. Redman
This year is my 8th at All Saints, and I look forward to a fun and exciting school year! I graduated with my Masters degree in Physical Education from Canisius College in Buffalo, NY, and I have obtained degrees in Health, Exercise, and Nutrition as well as Theatre. I am a certified personal trainer with the National Strength and Conditioning Association (NSCA-CPT), and I love to incorporate fitness activities into PE class! I am originally from Buffalo, NY, and live in South Riding with my wife Laura and our two sons Jonathan and William- whom both attend All Saints! In my spare time I enjoy cheering both the Buffalo Bills and Buffalo Sabres, love to read, lift weights, study early American history, collect comics, make films, and spend time with my family. If you should have any questions or wish to reach me, please feel free to contact me either via email (predman@allsaintsva.org) or via phone (703-368-4400 ext. 222). Let's go to work!
Skills gained from Teambuilding Slide (study guide)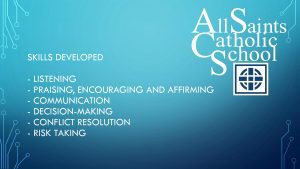 PE SCHEDULE
PE Schedule
Monday
Tuesday
Wednesday
Thursday
Friday
8-8:15

6A (8:07-8:52)

6B (8:54-9:39)

Mass and House Meetings

8:15-8:30
8:30-8:45

3A

3A

5B

8:45-9
9-9:15

3B

3B

5A

9:15-9:30
9:30-9:45

4A

1A

4A

9:45-10

8B (9:47-10:28)

10-10:15

2A

4B

5B

4B

10:15-10:30
10:30-10:45

2B

2A

5A

1A

10:45-11
11-11:15

1B

1B

K1

11:15-11:30
11:30-11:45

K2

K1

K2

11:45-12
12-12:15
12:15-12:30
12:30-12:45
12:45-1
1-1:15
1:15-1:30

7A (1:25-2:10)

8A (2:12-2:52)

8B (1:25-2:10)

8A (2:12-2:52)

7B (1:25-2:10)

7B (1:25-2:10)

7A (2:12-2:52)

6B (1:25-2:10)

6A (2:12-2:52)

1:30-1:45
1:45-2
2-2:15
2:15-2:30

2B

2:30-2:45
EAGLE PRIDE (Physical Education Points) 
All Saints Grading Rubric for PE and Health (Grades 1-5)
Each student will receive up to 5 possible points per class. Points will be based upon 5 separate criteria (AKA as: "EAGLE PRIDE"):
Preparation (Be Ready)
Respect (Be Respectful)
Intelligence (Be Smart)
Demeanor (Be Positive)
Effort (Be Active)
If a student meets the 'PRIDE' for each particular criteria, they will gain a '1'. The maximum culminating score will be the result of the 5 'Pride' categories added together. If a student fails to meet a 'Be', their score will be a '0' for that category.
| | | | | |
| --- | --- | --- | --- | --- |
| Demeanor | Effort | Preparation | Intelligence | Respect |
| Models sports-like behavior & positive attitude, Follows rules, Cooperates with peers, accepts winning & losing with equal measure, fully applies self to task at hand, helpful | Stays on task, Participates to best of ability, Models high level of participation. Self- motivated, Committed to task, Maintains personal fitness | On time, prepared for class activity, proper PE clothing as specified in manual (shoes, socks, shorts, etc.) | Demonstrates understanding of skills and strategies, Demonstrates knowledge of safety and game rules, Demonstrates knowledge of classroom rules and procedures | Respectful of all classmates and teacher, Helps others, Treats equipment with care, Treats facilities with care, Models self-control, Supportive of teammates, Follows directions |
| Uncooperative with teacher or teammates, displays inappropriate anger or frustration towards self or others, possesses negative attitude, overly critical of self or others, Complains about task | Avoids participation, Excessive socialization with peers, Disruptive, Interferes with others learning, dismissive of reminder prompts by teacher to participate, Needs constant reminders to stay on task | Tardy or absent, not prepared for class, missing PE clothing as specified in manual (shoes, socks, shorts, etc.) | Insufficient knowledge of classroom rules and procedures, Displays poor understanding of safety and game rules, Inability to demonstrate basic knowledge | Disrespectful of teacher or teammates, Does not treat equipment with care, Does not treat facilities with care, Celebrates mistakes of others, Inability to control self, Unsupportive of teammates, Does not follow directions |
For example, if a student meets the Attendance/ Uniform, Knowledge/ Cognitive, Respect, and Effort/ Participation categories, but demonstrates poor sportsmanship after losing a game- this would count as a '0' in the 'Attitude' category, and therefore bring the total score to a '4' for the day.
All Saints Grading Rubric for PE and Health (K)
| | | |
| --- | --- | --- |
| Excellent | Meets Standards | Needs Improvement |
| Consistent participation, stays on task, supportive of peers, active listener, respects equipment, facilities, peers, teacher, and self, works hard, cooperative, is helpful. | Needs occasional reminders to participate, performs well most of the time, may need occasional reminders to respect equipment, facilities, peers, teacher, and self, inconsistently follows rules | Poor engagement, little to no effort, socializing interferes with participation, uncooperative, disruptive, displays inappropriate behavior towards others, does not respect equipment, facilities, peers, teacher, nor self, does not follow rules, needs constant reminders to stay on task, & follow directions, disrespectful towards peers. |
In addition to daily PEP (Physical Education Points), student grading will also be broken down into 4 different tiers. They are as follows:
Grades K-2- 100% as stated in Rubrics
Grades 3-5- 70% Rubric
                       30% Unit Quizzes
Grade 6-      10% Homework (PE Activity Log/ Nutrition Log)
                      60% Rubric
                      30% Unit Quizzes
Grades 7-8- 10% Homework (PE Activity Log/ Nutrition Log)
                       50% Rubric
                       20% Unit Quizzes
                       20% Project
PE Homework (Middle School)
Middle School students will have a monthly PE homework assignment (AKA: the Physical Education Log). The purpose of the PE Log is to:
     1.) Encourage student physical activity away from school, while
     2.) simultaneously serving to increase student awareness as to the value of physical activity and fitness and healthy behavior.
The PE Log will start at the beginning of each month, and will be due the Sunday ending that week. THE PE LOG Assignment is to be completed WEEKLY. Completed work will count towards 10% of the Middle School grade for Homework. PE CLASSES CAN BE USED FOR 2 ASSIGNMENTS EACH WEEK.
Students will be able to find the link to the Physical Education Activity Log in the their Google Classroom page. Each month will be listed individually, and it will be up to the student to complete and properly document the work throughout the month.
Students are requested to complete atleast 20 minutes of moderate physical activity, 3 times per week. Students that already participate in sports or clubs outside of school where they are active in practices and games will now get credit for this work. Students that are not involved in an organized sport outside of school will be able to claim credit for activity that is vigorous in nature, following the above guidelines of being atleast 20 minutes in length with a frequency of 3 times per week.
Activities that are acceptable include: running, walking, hiking, biking, swimming (laps), martial arts, gymnastics, soccer, football, basketball, baseball, hockey, weight training, dance, cheerleading, tennis, etc. The idea is to increase heart rate and respiration (hopefully perspiration, too) for a continuous period of time (20+ minutes) and frequency (3/week +) in order to have the desired effect. All the student need do is in the proper space provided on the form: list the date, the activity performed, and the duration of the event. If practice runs longer than 20 minutes, it will still count as 1 session!
JFK National Call to Physical Education circa 1960's
I came across this video of a soon-to-be made movie that investigates the physical education challenge that President John F. Kennedy issued to the schools in the United States.
After watching this video, is this something that could work today?
Student physical activity bill passes Virginia Senate- Pilotonline.com, 2/5/2014
From Pilotonline.com: "Three years from now, public schools would be told to ensure elementary students get at least 20 minutes of daily physical activity under a bill that passed the Senate Tuesday.
Newport News Sen. John Miller told colleagues that his bill, SB155, is one step to combat the growing epidemic of childhood obesity.
"We need to get our children up and moving," said Miller, a Democrat, who has championed a version of this legislation for several years.
The bill also stipulates that the physical activity standard be available to middle and high school students.
The legislation cleared the General Assembly's upper chamber on a 37-2 vote. It does not mandate physical education, as Miller has advocated in the past.
"Recess would count" toward the physical activity requirement, he said.
Before the bill passed, Senate Majority Leader Richard Saslaw, D-Fairfax County, asked Miller whether he would consider putting an emergency clause on the bill, an amendment to make it effective much sooner.
Miller said he wouldn't.
"But it is an emergency," he said of the need to get students physically active at school. His bill would take effect in the 2016-17 school year.
http://hamptonroads.com/2014/02/student-physical-activity-bill-passes-virginia-senate
"Football High"- FRONTLINE, PBS, aired 4/12/2011
This documentary is an excellent primer on competitive football in high school, the dangers and risks associated with playing football, and the focus on winning at all costs for such young athletes.
Link: http://www.pbs.org/wgbh/pages/frontline/football-high/
"Crave Competition, it's good for you"- USA Today article, published 10/12/2013.
http://www.usatoday.com/story/opinion/2013/10/12/competition-sport-bill-gates-olympics-column/2951867/
"League of Denial: The NFL's Concussion Crises"- FRONTLINE, PBS, aired 10/8/2013 
This documentary is a sobering report on the dangers and risks associated with playing football at the National Football League  level, and also as a sport.
Link: http://www.pbs.org/wgbh/pages/frontline/league-of-denial/?fb_action_ids=10151679553065952&fb_action_types=og.recommends&fb_source=aggregation&fb_aggregation_id=288381481237582
"With God All Things Are Possible."